From July 1 through August 12, Spencerville Church is asking for your help in providing back-to-school supplies to support students in need within our community.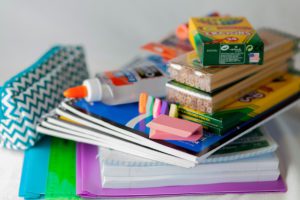 We aim to assist more than 300 students with school supplies; hence we need your generous support for this project! A list of NEW supplies can be found below, in our Weekly Update email newsletter, and at the welcome desk in the church foyer.
You may bring your donations of new school supplies to the church on Saturday morning (or anytime during normal business hours) through August 12. Look for the cart in the foyer where you can place your items.
Can I make a monetary contribution instead?
Yes! Monetary contributions can be made during the worship service via a tithe envelope by marking a blank line with "Back-to-School Supplies."
List of Supplies Needed
Pencils
Erasers
Binders
Backpacks
Kids (Safety) Scissors
Calculators
Notebooks
Crayons
Dividers
Dry Erase Markers
Flash Drives (8 GB+)
Pens
Highlighters
Index Cards
Glue Sticks
Grid Paper
Loose Leaf Paper
Pencil Bags
Pocket Folders
Protractors
Rulers
Markers
Questions?
Have questions? Send a note to the church office.