We invite you to join us for an outdoor worship service at the church on Saturday mornings at 9:00 A.M. Weather permitting, we will hold these services through July 24, returning to indoor worship on August 7 after a hiatus for Vacation Bible School on July 31. Our regathered indoor worship service has returned at 11:30 A.M. on Saturday mornings, and we're ready to join them inside the sanctuary as we worship during our 9:00 A.M service.
Pre-registration is no longer required for either of our in-person worship services! However, if you have additional questions about the outdoor worship service, read on or call the church office at 301.384.2920. We look forward to worshiping with you!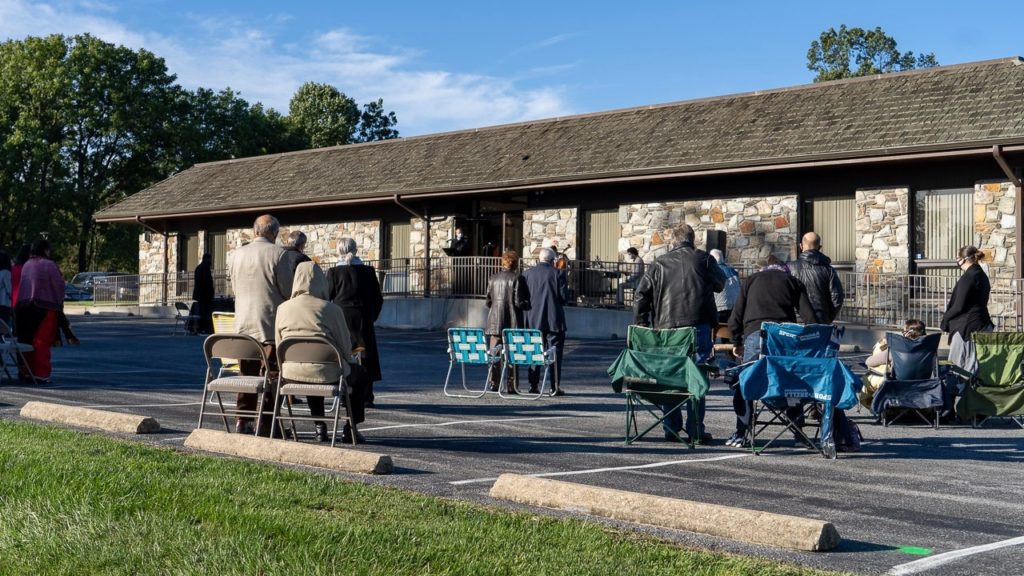 What can I expect at an outdoor worship service?
If you've attended a typical worship service, you'll recognize much of what happens during an outdoor service. Expect the service to last approximately 45-50 minutes in length. It typically includes scripture, responsive readings, musical selections, and a full sermon.
What do I need to know to attend?
Masks are no longer required on campus for those who have been fully vaccinated. However, we do ask that you respect the space and wishes of those who may choose to continue to wear masks.
All capacity limits for outdoor services have been removed.
There will be no live stream video broadcast of this service. This service takes place in addition to our 11:30 A.M. live stream broadcast on Sabbath mornings.
As it's an outdoor service, we encourage you to dress comfortably.
What about parking and seating?
To ensure that as many people have an opportunity to attend the drive-in service in the way they're most comfortable, we have two options for attending:
Drive-in Worship: For those uncomfortable with the idea of sitting in the congregational area, we will also broadcast the audio from the service over a low-power AM radiofrequency. A dedicated parking area will be provided in the lower and grass parking lots behind the church. Those who wish to remain in their cars should tune their radios to AM 1620 when arriving at your parking spot.
BYOC (Bring Your Own Chair) Seating: You are also welcome to sit outside in a designated seating area in the upper parking lot behind the church. Should you choose this option, please note that you will need to bring your own chairs.
We appreciate your help over the past year as we've worked to ensure the continued health and safety of our community during these outdoor worship services!