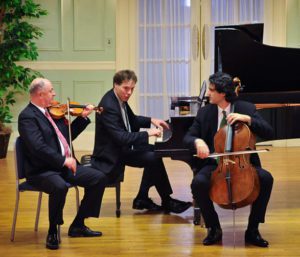 The Tempest Trio performed Antonin Dvorak's Trios for violin, cello and piano in E minor (Op. 90) "Dumky" and F minor (Op. 65). Combining technical mastery, expressive depth, and performance experience, pianist Alon Goldstein, violinist Ilya Kaler and cellist Amit Peled have joined forces to form one of the most exciting trios on the international scene. Each virtuoso member of the ensemble has a successful solo career; together,they bring a vitality to the concert stage with their dynamic musical interplay and collaborative spirit. All three have concertized and recorded extensively, and all three have strong, exciting musical personalities.
Pianist Alon Goldstein is a well-known soloist with the Philadelphia, San Francisco, Houston, Baltimore, Seattle, Vancouver, and St. Louis Symphonies as well as the Los Angeles, London and Israel Philharmonic orchestras. Violinist Ilya Kaler, a graduate of the Moscow Conservatory, is the only violinist to have won gold medals at the Tchaikovsky, Sibelius and Paganini competitions. Cellist Amit Peled was hailed by the American Record Guide as "having the flair of the young Rostropovich,"and London's illustrious Strad magazine highlighted his "bold and dramatically conceived interpretations" at Wigmore Hall.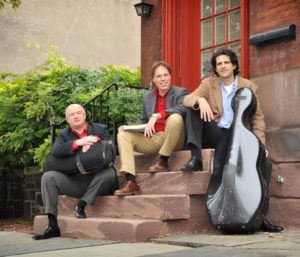 The Tempest Trio has performed in cities throughout the US including Chicago, Baltimore, Seattle, Palm Beach, Spartanburg SC and Washington DC. In 2010 the trio performed the complete Schumann trios at the Seattle Chamber Music Festival and was invited the following year to play the complete Brahms trios. The prestigious Four Arts Society invited the trio to be the featured ensemble in a Beethoven festival performing Beethoven trios as well as the Triple Concerto with the Palm Beach Symphony. The Tempest Trio has since performed the concerto numerous times across the US. The success of the festival resulted in an immediate reengagement to play the following season. In April of 2011 the Trio performed for the first time in Germany (Bad Segebeg and Borstel) and was immediately invited back for the 2013 season.