UPDATE – May 13, 2020, at 10:05 p.m. – Earlier this evening, Pastor Chad sent an email update to our church community regarding Governor Hogan's announcement lifting the stay-at-home order in Maryland. However, in the announcement, Governor Hogan also acknowledged that counties that had seen more COVID-19 cases would be offered the option of remaining closed. The list of counties opting to do so includes Montgomery County, where the church is located. We invite you to read the full statement here on our website and watch for future updates as the plan for reopening takes shape.
UPDATE – April 3, 2020, at 4:05 p.m. – An email was sent out this afternoon with updated information on this Sabbath's worship service as well as a few additional resources for children, Sabbath School quarterly apps for iOS and Android devices, and online giving. We're also moving our weekly Tuesday-night prayer meeting to Zoom (an online conference app), and several members of our pastoral staff are hosting devotionals via Facebook Live on Monday, Wednesday, and Thursday evenings at 7:00 PM.
UPDATE – March 16, 2020, at 8:05 p.m. – Pastor Chad has posted an open letter to the Spencerville Church family. Our status remains at Stage 3, and we expect it to remain so for at least several weeks. Look for information later this week regarding our worship service, several virtual connecting events, and how you might be able to get involved serving. Also, if you're not receiving our email updates, visit our newsletter sign-up page to be added to the list.
UPDATE – March 12, 2020, at 11:45 p.m. – Here is a brief update from Pastor Chad regarding the recent implementation of our Stage 3 protocol, moving our worship services online, canceling all church events and facility rentals, and a reminder of where we can find hope and peace in all of the COVID-19 madness.
UPDATE – March 12, 2020 at 4:30 p.m. – In cooperation with Governor Larry Hogan's executive order on Thursday, March 12, Spencerville Church has moved to a status of Stage 3. This means that our church building will be closed and our worship service will move online. Please refer to the list below for a complete list of implications for our worship services this Saturday.
With the presence of COVID-19 (Coronavirus) now in Montgomery County, each of us must take precautionary measures for the peace of mind and continued health of the Spencerville community as well as our guests.
As news surrounding the spread of COVID-19 (coronavirus) continues to develop, the staff and leadership of Spencerville Church are taking prudent steps to keep our community healthy. The actions we're taking are consistent with those of several of our large institutions and are out of an abundance of caution. We are continuing to monitor information released by the CDC, the State of Maryland, Montgomery County, as well as other alerts for our area.
We will release updates on status changes through the church's Facebook, Twitter, and Instagram accounts, as well as the church website, the Weekly Update email newsletter, and the main message on the church phone system (301.384.2920).
Our hope is that these actions will help slow the spread of COVID-19 specifically to avoid overwhelming our local medical facilities, as demonstrated in the graphic below.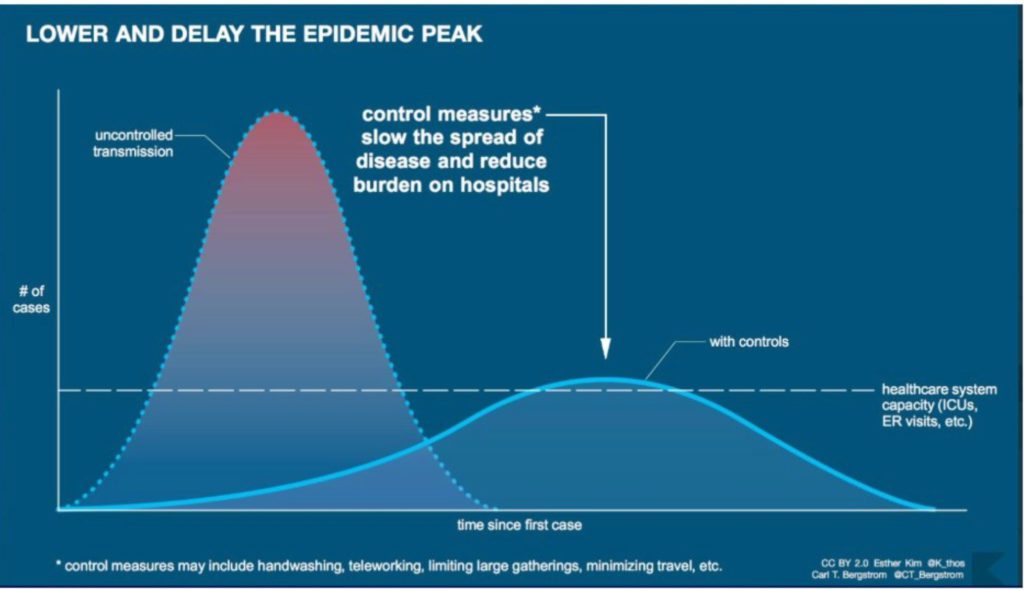 In the table below, you'll find the three-stage plan with accompanying actions based on severity. Unfortunately, as you'll see below, there are several implications for our worship service and planned activities for the coming weekend, March 14.
However, please note that this is an emerging, rapidly-evolving situation. Spencerville Church leadership may need to make adjustments to the action items below.
Stage 1
Confirmed Cases in Maryland
All worship, ministries, and meetings in the church facility remain active.
Extra sanitation and cleaning will be performed throughout the building.
Communication between members with words rather than physical contact.
Encourage those who aren't feeling well to stay home.
Encourage handwashing and use of hand sanitizer.
For those uncomfortable with attending in person, please note that our second service worship is available online.
Stage 2
Confirmed Cases within Montgomery County, Howard Country, and/or Prince George's County
Online worship is available for those who choose to stay home. Vulnerable people groups are encouraged to stay home and utilize online worship.
Limited service by H.I.S Team/Diaconate.
No food served on church premises.
Extra cleaning and sanitation before and after worship services, as well as Sabbath School.
Tithes and Offerings will be collected at the back door of the sanctuary, offering plates will not be passed.
Bulletins will be available but will not be distributed at the doors.
Recommend limiting travel for church staff and church-sponsored ministries.
Stage 3
Confirmed Case in Our Church or Academy, or upon the Advisement of Local, State, or Federal Health Officials
All congregants will be directed toward online worship services; no worship services or activities will be available on Spencerville's campus.
All giving will move online.
All facility use, including worship services, rehearsals, meetings, concerts, and facility rentals will be suspended until further notice.
All church-sponsored events (on and off-site) will be suspended until further notice.
The church office will be closed, and all contact will be directed through email and phone (301.384.2920).
The church leadership will coordinate with the Department of Health or appropriate agencies regarding the steps required to move forward.
Personal Preparedness
There are many common-sense steps that you can take to limit the spread of COVID-19. For 80% of cases, it is a relatively mild illness that does not require hospitalization. While there is currently no way to eliminate COVID-19, we can slow down its spread and protect our vulnerable population by:
Washing your hands frequently with soap and water (singing the Happy Birthday song twice will ensure you've scrubbed long enough).
Not touching your face (mouth, nose, eyes) with your hands.
Staying home if you feel sick until the illness is resolved.
Covering all coughs and sneezes with a tissue and wash your hands thoroughly afterward.
Staying away from others who are ill when possible.
Submitting Prayer Requests
Our prayer ministry group has been praying about the coronavirus epidemic for several weeks. They've been petitioning God on behalf of those afflicted with the coronavirus, those treating the sick, as well as those working toward a cure or a breakthrough in treatment. If you'd like to submit a prayer request, whether it's related to coronavirus or not, send an email to our prayer ministry team.
Other Resources
Updated on March 12, 2019, at 10:35 AM