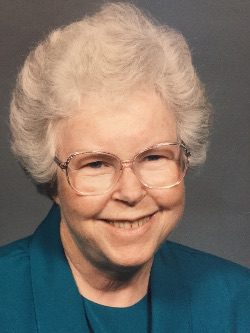 Betty Stewart, the mother of Spencerville members Barbara Carreno and Carol Melashenko, died last December of natural causes. Her health had been in a slow decline after breaking her hip in 2019. Betty was 94-years-old.
Service Information
A virtual memorial service will be held for Betty on Saturday, June 19, at 4:00 p.m.
Virtual Memorial Service
Life Sketch
Betty Stewart was a Depression-era child who was born on her Quaker grandmother's Indiana farm. However, her Hoosier parents spent most of their adult lives in Florida. Betty's family of seven frequently moved during the Depression, living at least 13 places (once in a tent!) in Florida before settling in the Orlando area during Betty's senior year of high school. Betty played the trombone in her high school band and was told she would have been the class valedictorian if she'd attended the school for several more years.
Betty studied nursing in Orlando and worked at the Florida Sanitarium and Hospital, where she met her husband, Jim Palmer. It was here that Betty was baptized an Adventist. She was a room mother at her girls' church school, a Pathfinder counselor, and a leader in her children's Sabbath School classes. When the girls were 13 and 11, Betty and Jim moved to Tennessee, where she fell in love with the Appalachian people and culture, developing a deep interest in the Civil War. After a decade, she and Jim returned to Florida, where Jim died in 1981. Betty remarried and, unfortunately, was widowed a second time. It was then that Betty began to travel extensively throughout the United States with her daughters, visiting 15 states, including Alaska and Hawaii.
Betty joined the Spencerville Church family when she moved in with her daughter, Barbara Carreno (then Barbara Palmer), 14 years ago. After Barbara and Elmer were married, she embraced Elmer as her beloved son-in-law. In 2010, her daughter Carol moved to Maryland to help, support, and care for her mother. Betty attended the Fireside, now Conference Room, Sabbath School, where she ministered to class members and others by sending cards and notes. Betty was a regular participant in the Wednesday morning seniors' group and enjoyed having people over for meals.
After spending a year at Elternhaus following her hip surgery, Betty moved home to live with Barbara and Elmer following Barbara's retirement this past summer. The family remains grateful to Tim Mayer and his loving staff for Betty's care during her time at Elternhaus.
---
On behalf of Betty's family, friends, and the pastoral staff of Spencerville Church, thank you for taking the time to remember Betty. If you have words of sympathy, support, or memories of Betty you'd like to share with the family, you may leave them below.