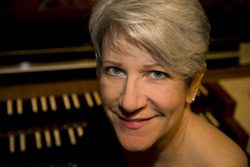 On Saturday, November 19, as part of our continuing celebrations of the 20th anniversary of the organ, Julie Vidrick Evans performed a program of music by Handel, Bach, Mendelssohn, Thalben-Ball, Duruflé, and more,
An active recitalist and prize-winning organist, Ms. Evans has been a featured soloist with The Washington Bach Consort, Bach Sinfonia, Masterworks Chorus, and Thomas Circle Singers and has performed in cathedrals and concert halls across the U.S. and Eastern Europe. Ms. Evans earned a Master of Music from The Catholic University of America as a student of Wojciech Wojtasiewicz and a Bachelor of Music from James Madison University as a student of Richard McPherson.
In addition to holding church positions in the Washington, D.C. area, she has served as Choral Conductor-in-Residence at American University, Washington, D.C., and Associate Conductor of Masterworks Chorus (now The National Philharmonic Chorale). Evans has served the American Guild of Organists as clinician and recitalist and has served as Dean, Trichapter Chair, and Co-Chair of the Committee for New Music and Executive Assistant for the 2010 National AGO Convention. She is currently Director of Music at Chevy Chase Presbyterian Church in Washington, D.C.
Prior to the concert, we sat down with Julie to talk with her about some of her experiences playing the organ and about some of the pieces she would be playing on November 19. From this conversation, we made a micro-documentary that you can view here.