The Spencerville Seventh-day Adventist Church and its Pathfinder Club* are committed to serving our community.
Each year we visit your neighborhood and ask for support in our annual Thanksgiving Food Drive. Your generosity over the years has fed thousands of families.
Our Need for 2022
For more than 20 years, Spencerville Church has, along with substantial support from within the community, come together to support this initiative benefiting those in need within our area. We're blessed to have a group of people willing to work hard (Pathfinders, parents, Connect Groups, and more!) to help us distribute bags, collect and sort food, and package and deliver the assembled food boxes.
The food collection process for the 2022 season continues through Saturday, November 12.
Here's how you can be involved:
Bring the following canned or boxed food items (no produce, please) with a current use-by date to the church during business hours through Saturday, November 12. Look for the cart located in the foyer and leave the food in the cart. You can also make a monetary donation through the AdventistGiving site by selecting the "Thanksgiving Baskets" offering option on the digital envelope.
List of Suggested Donations
Macaroni and Cheese
Canned Vegetables (corn, green beans, carrots, peas)
Cereal (Corn Flakes, Cheerios, Frosted Mini-Wheats)
Canned Fruit (peaches, pears, apples)
Cans of Soup (vegetable, minestrone, chicken noodle)
Rice (bags or boxes)
Stuffing
Instant Mashed Potatoes
Canned Sweet Potatoes
Cream of Mushroom Soup
Gravy Mixes
Cranberry Sauce
Muffin or Corn Bread Mix
Packaged Breadcrumbs
Pie Crust Mix and Fillings
As you reflect on how God has blessed you over the past year, we invite you to give generously and share it with others!
2021 Results
Many of you asked for more information about the results of this important effort. We heard you! Below you'll find several photos and a short overview of our 2021 results.
15+ neighborhoods visited
3,000+ bags distributed
650+ bags of collected
16,000+ non-perishable food items sorted
200+ large moving boxes filled with sorted and categorized food items
1,000+ volunteer hours
Hundreds of families served at Elizabeth's House (FISH of Laurel) food pantry, which provides both packaged food to share and a hot dinner meal kitchen.
Come back to this page on November 16 to see the impact of your 2022 contribution!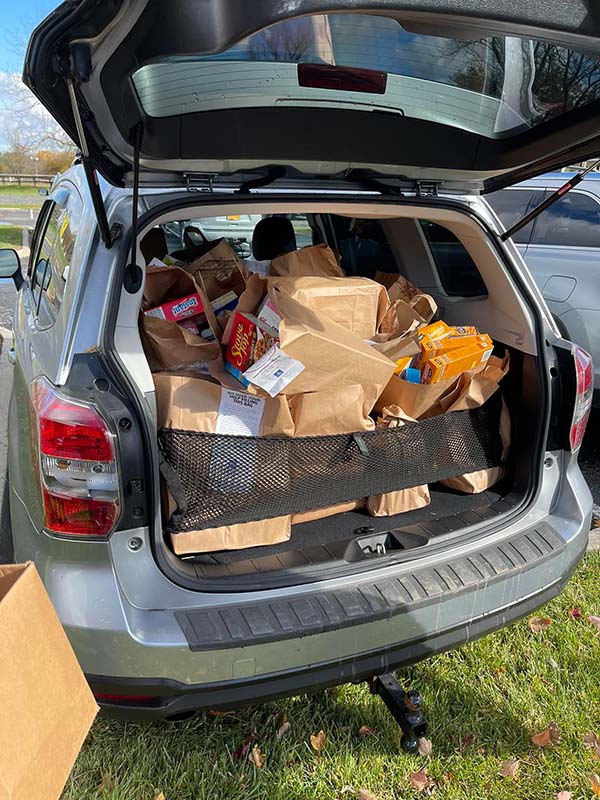 *Pathfinders is a co-ed youth group for kids in grades 5 to 12, similar to the Boy and Girl Scouts but with an added Christian focus. If you are interested in learning more about Pathfinders, our club director can be reached at pathfinders@spencervillechurch.org.