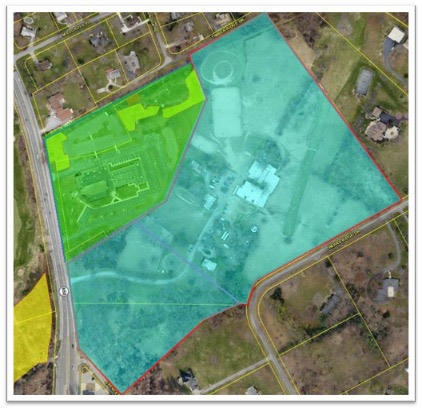 In May of 2018, empowered by a vote by the church in business session, Spencerville Church purchased the adjoining 29-acres of land on the southeast border of our current location, commonly called the "Horse Farm property." The major unanswered question of many church members was, "What would we do with the land?"
The Spencerville Church Board has appointed a Campus Vision Committee to assess the options for using our current land along with the newly-purchased 29-acre parcel. The committee has been charged with developing ideas on how our campus can be used to meet not only the current needs, but also future needs, and to present several options to the church board for its consideration. The church board—the larger elected body—will decide what ideas, options, and actions will move forward for the congregation to consider at a future church business meeting.
Each word of the committee's name is important:
Campus: Our church's campus is the entire 34 acres that we now own, starting with our New Hampshire Avenue frontage, and extending to the new back property line. This includes the existing church building and parking lots as well as several structures on the Horse Farm.
Vision: The process of coming together to consider the desired future for our congregation and how our campus can best be used to achieve these goals.
Committee: Eleven individuals, representing the extensive diversity of the Spencerville congregation, have been asked by the church board to lead this process.
Some may ask, "Why create this committee when we have the preliminary plans that were proposed, voted, and approved 15-20 years ago?" Times and circumstances have changed.  Our property is now larger—34 acres versus 5. Our congregation is larger—nearly 2000 members versus 1200.  We have more ministries and outreach activities. It was because of these changes that our Spencerville Church Board felt the situation needed to be re-evaluated. We needed to take a fresh look at current and future needs. That's why the Campus Vision Committee was appointed. And that's why we want to hear from you!
The committee seeks to launch a congregation-wide discussion regarding how our entire campus—land, and buildings, both old and new—might be used to meet our congregation's needs.
We are also considering open meetings where church members can gather to share their thoughts and hear what others think. The committee will use the feedback we receive on the forms along with what we hear at the open dialogues to inform our recommendations to the church board.
Already, we've seen some church members approach committee members to have one-on-one discussions about potential uses of our entire 34-acre campus. This is good! The committee members want to engage everyone on suggested uses for the land, and how those uses would help meet deeply felt needs. It's our hope that these surveys and more inclusive discussions we intend to create will allow everyone a chance to participate.
We look forward to hearing from you. What do you think are our congregation's greatest needs? How our campus can be used to help satisfy them—both now and into the future?
Sincerely,
Rob Abraham
Jim Callan
Lerone Carson
Ashlee Chism (Secretary)
Joy Faehner
Richard Guldin (Chair)
Jessica Moon
Merle Poirier
German Rodriguez
John Sackett
Doug Zinke