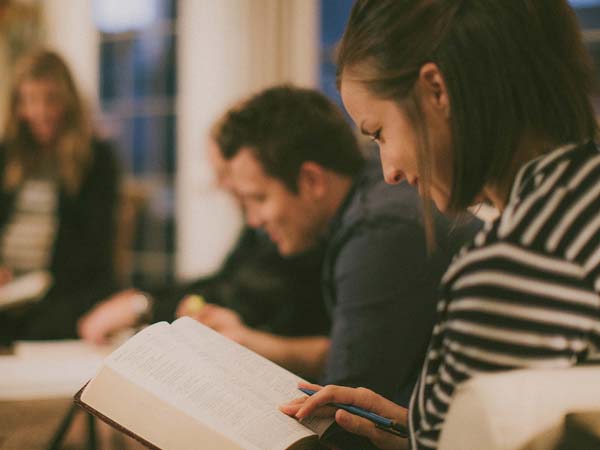 Small groups are a great way to get connected and build relationships with others in our church family! We're excited to tell you more our new small group ministry. God left His fingerprints all over the development of this program, and we're eager to see how He is going to use it to reach into our hearts in a deeper and more profound way. We're also praying that He will use it to help others see their need for a closer connection with Him too!
Our small-group season on has started, but it's not too late to join!
Before you begin the sign-up process, will you do us a favor? Will you start by praying for God to show you where He would like you? We know that He has the right group for you! Ask Him to lead you to it.
Getting started in a small group is an easy 3-step process:
Scroll down and take a look at our list of small groups.
Sign-up by clicking the button below.
You'll be contacted by a small group facilitator regarding your request.
Yes, it's that simple!
We're eager to see how God is going to bless our church family through these new gatherings—and we're excited that you're interested in being a part of it!
---
Select a Small Group:
Day/TIME
Description
Type of group
Facilitator
Monday
10:00 a.m.
Ladies Walking Group
Fellowship/Prayer
Gloria Campbell/
Geri Mueller
Monday
7:00 p.m.
Journeying with Jesus
Bible Study
Angelina Wood
Tuesday
7:00 p.m.
From Study to Service
Bible Study/
Community Service
Don Da Cunha
Tuesday
7:00 p.m.
The Gospel of John
Bible Study
Bill McDonald
Wednesday
7:00 p.m.
Belief in an Age of Skepticism
Fellowship/Topical
Nathan Hess
Wednesday
7:00 p.m.
Seeking Shalom through Mission
Fellowship/Topical
Greg Whitsett
Wednesday
7:30 p.m.
Daniel and Revelation
Bible Study
Claude Richli
Friday
7:00 p.m.
Philippians
Bible Study
Pastor Kandace
Friday
7:00 p.m.
Young Adult Group
Bible Study
Jonathan Walter
Saturday
4:00 p.m.
Growing Together in Fellowship
Fellowship
Phyllis McElmurray